Game, Set, Matte
GLAZE LAB // MARCH 2019
For the March edition of Glaze Lab, we wanted to share with subscribers our joy in overcoming a tough challenge in surface creation: matte. The majority of our wares come in a satin or glossy finish, but for the past six months we've been experimenting to produce an ultra-matte finish with a flatter appearance and grittier surface texture.
After many tests (many ugly, flaking, gnarly tests) we created this ultra-matte in a coral-blush using a tinted, atomized engobe. Applied to the surface of our standard bud vase and lined with a clear gloss glaze, we think it is something special.
X2E46030 △6 0319
(handwritten on the bottom this time)
"This bright, snug space is meant to fulfill many needs, whether that's a casual meal, a late-night dance party, or a healthy brunch. On the weekends, the restaurant plays host to the New York satellite of Season, the all-day cafe in Paris that's a favorite during fashion week...
At Short Stories, the Acai Bowl and Green Pancakes that [Cathy Closier's] French patrons have come to love are served on the same pink Felt+Fat ceramics she otherwise imports to the City of Light..."
We are so appreciative of the warm response we received at the Architectural Digest Design Show and from our social media followers during the release of Honeydew this month. If you haven't had a chance to check it out, visit our website where you can see each of our wares in Honeydew.
Our buddies at NINObrand in Philly were kind enough to host us for a pop-up this past month and boy did we enjoy meeting and chatting with old friends and new!

It's always great to feel the local love by doing a pop-up in Philly and by the turnout we received, you can be sure we're looking forward to our next opportunity to do so.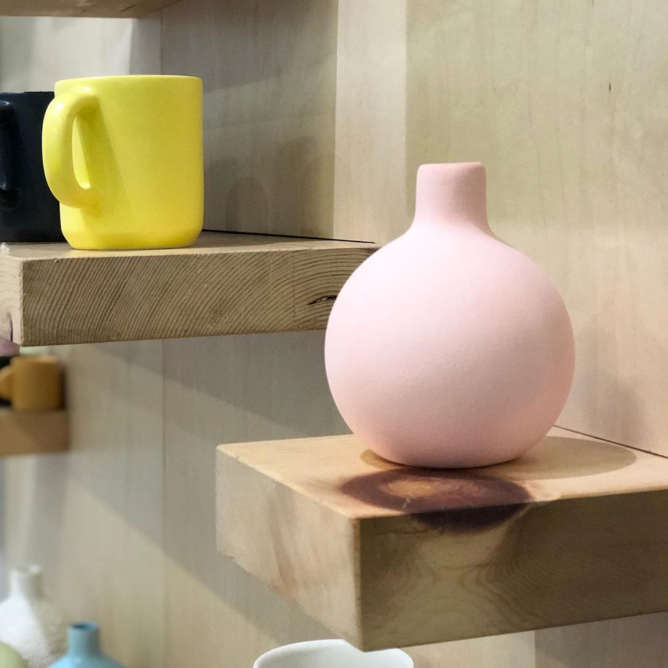 Talk about a busy month!

On top of everything else, we hunkered down for a weekend at the AD Design Show to show off to visitors our new colorway, experimental finishes and forms, as well as classic Felt+Fat wares in a full range of glazes.